Online Stack Gas Analyzer
Industrial plants requiring approval are subject to strict requirements for compliance of emissions limit values. Delta Gas Mobin Group (DGMG) has been supplying stack gas analyzers for more than 10 years and have developed several analyzer technologies and sampling systems. We have supplied more than 60 stack gas analyzers over Iran.
DGMG routinely supplies systems that comply with local (IDOE), domestic and international regulations.
The number of measured components depends on the plant type, but also on the used fuel.
Our solutions:

Cold Dry Extractive Gas Analysis
Cold-dry measurement is – same like hot-wet measurement – based on the extractive working principle. A partial flow of gaseous components is withdrawn by a sampling probe and sampling pipe and led to the analysis cabinet.
A gas conditioning inside the cabinet cools the sample gas to 5 °C. Then up to five components are measured in parallel – a real added value for you.
For the detection of smells i.e. metal oxide sensors are applied.
For different customer requirements we use the most efficient method each. Of course, we are able to offer certified equipment as well. In any case we have a solution for your application. Test it!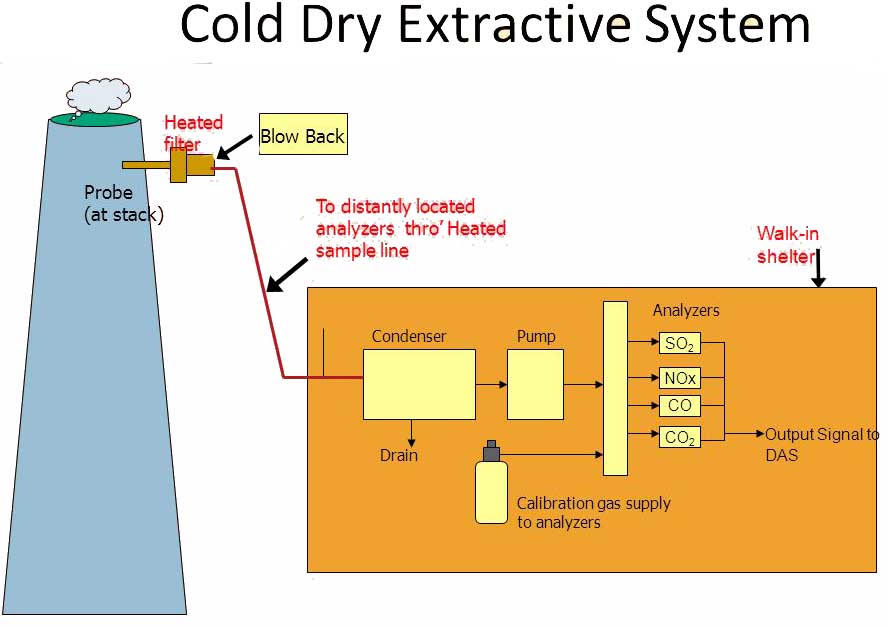 Hot Wet Extractive Gas Analysis
The method of hot-wet gas analysis is widely used – in power plants, in waste incinerations, in paper, glass and cement industries and many more. A partial flow of gaseous components is withdrawn by a sampling probe and sampling pipe and led to the analyser cabinet. The sample gas is tempered at 185 °C for the whole gas path and monitored for flow and temperature. This high temperature level is necessary in order to prevent condensing of water-soluble components.
The multi-component analyser is the heart of the hot-wet measuring system analysing simultaneously up to 12 components. That includes e.g. HCL, NH3, H2O, CO, NO, NO2, CH4, SO2 and CO2. Oxygen is measured by an integrated zirconium dioxide sensor.
Our gas analysers are qualified for almost all applications. It passed the suitability test and got certification according to EN 15267-3 (QAL1). Test it!
In-Situ Laser Gas Analysis (TDLAS) Cross Duct and probe types

Photonics-based technologies for gas concentration measurements exploit the fact that every gas, be it oxygen, carbon monoxide or even a complex hydrocarbon, has a characteristic absorption spectrum or "fingerprint". In many cases, this allows a distinct identification of gaseous components including a quantification of the respective concentration levels.

Typical gases for a selection of industries are:

Cement industry: NH3 and HCl

Steel industry: NH3

Aluminium: HF

Power industry: NH3

Waste combustion: HF, HCl & NH3

Petrochemical: Typically, NH3.

H2O is often measured for conversion to dry values.
Sample conditioning systems
We offer and provide gas conditioning components such as heated sample probes, heated sample lines, gas coolers, gas conditioning systems, gas converters and accessories for continuous emission (CEMS) and industrial process monitoring.
We supplies all major industries of the fields chemical and petro-chemical industry, pulp and paper industry, semiconductor industry, production of technical gases, iron and steel industry, as well as authorities and institutes dealing with environmental control.
Our partners on continues emission monitoring systems: